Tickets to the Eurovision final, which is taking place in Liverpool, are being resold for up to £1,500 on eBay, over eight times their face value. The UK is hosting the competition for the first time in 25 years, on behalf of Ukraine, who won last year's singing contest. The tickets sold out within 90 minutes when they went on sale in March, with standard ticket prices ranging from £30 to £380.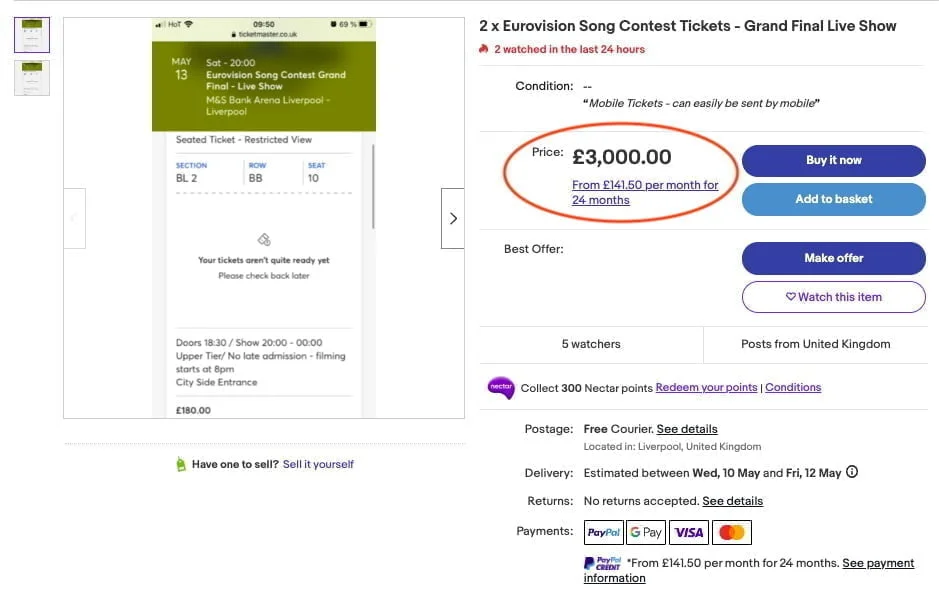 However, some fans are cashing in on the sold-out finale. One person is selling two tickets to the grand final live show for £3,000-£1,500 per ticket. The upper-tier seats were purchased for £180. Despite the eye-watering price, the seats are not even next to each other. Another keen fan is selling two tickets to the live final for £1,800, despite purchasing them for £190 each. Someone else is flogging a single mobile ticket for the final for a whopping £1,100.
Tickets to the semi-final are also being re-sold. One person is selling two tickets to the semi-final in the upper-level Sky Suites for £999. There will be six public dress rehearsals during Eurovision Week, along with two live televised semi-finals and the final.
Sam Allcock is the CEO of PR FIRE – PR & Content Marketing Platform
Talks about #pr, #blogs, #marketing, #socialmedia, and #pressrelease
Writes for The Dial in his own time.