Mark, a former star of TOWIE, and Michelle, an actress best known for her role in Brassic, have been providing their followers with regular updates from their new house, including an on-site gym and a private steam and sauna area.
There are a total of five bedrooms, and three of them are equipped with their very own dressing rooms.
Mark uploaded some photos to show off their luxurious bathroom, complete with its own sauna and steam room.
The pair, who were married in 2015, spent over two years refurbishing the enormous property after they bought it together.
They paid £1.3 million for the mansion, but experts estimate that its current value is closer to the staggering sum of £3.5 million.
Mark has been keeping his followers on a special Instagram account for his home up to date on the progress of the makeover.
The home has expansive grounds, in addition to a swimming pool that is located outside.
They went to great lengths to ensure that the huge property featured an extensive home gym, and they furnished the home in soothing tones of cream, white, and beige.
It was claimed that as they were putting the final touches on their home, they spent a whooping £30,000 on trees to line their property to provide themselves with some degree of privacy.
As was the case with their most recent reveal of the kitchen sofa, the comment section appears to be a breeding ground for debate and controversy with each article.
Mark Wright and Michelle Keegan took to their dedicated home Instagram page on Sunday to give fans a glance at their extravagant large wraparound sofa. Mark said in the caption, "Scatter pillows finishing our living room sofa wonderfully."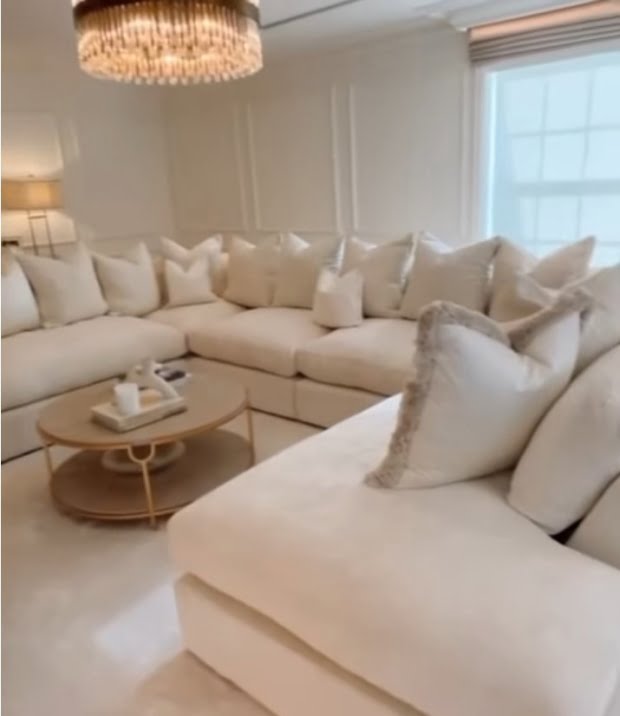 In the photographs, the huge living room owned by the couple included white paint on the walls and a dramatic chandelier that stood out.
Many of the fans of the actress Michelle and the television presenter Mark were thrilled with the finish of the room; however, many of those fans complained that the room appeared too beautiful, adding that if they lived there, they would spend an eternity plumping up the several pillows on the sofa.
The picture quickly received more than 14,000 likes and hundreds of comments, one of which offered advice from a concerned fan:: "Gorgeous!!! When you have kids – you'll need to put plastic wrapping on the sofas."
One other follower commented: 'It's stunning but not homely more like a show room,' while someone else shared: 'Stunning but it looks unlived in.'
One person wrote in the comments section: 'Perfection, but that's not living, won't want to sit on the sofa for fear of messing it up. Every house needs to be a home not a show.'
'Looks gorgeous, but I would be putting cushions straight in my sleep,' posted someone else.
Another follower wrote: 'That's a lorra cushions to be puffing up before bedtime. Looks stunning.'
While someone else remarked: 'And who has time to go abound karate chopping a million cushions every day.'
The comment section appears to be a breeding ground for debate and controversy with each post.
Mark also showed off his new high-tech bedroom, where he and Michelle had spent a lot of money on a bespoke bed with a pop up television.
The dining area featured floor-to-ceiling windows on three sides, enabling abundant natural light to enter the space.
Additional pictures showed the contemporary colour plan that the couple had chosen, which consisted of using beige and cream as the primary colours throughout the property.